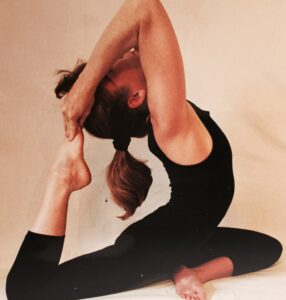 My first introduction to meditation was inspired by the Beatles in the 60's. I took courses in Transcendental Meditation with the Maharishi in Humbolt County, California. And for a "wild child", it was the beginning of slowing down enough to "feel", "see", and "be" in life moment to moment.

In 1973 I moved to Santa Barbara to complete my Masters in Education. It was there that I took my first yoga class. After the first OM, i was home, and i haven't gotten off the mat since! My teachers were a couple- Pheldea Fleming and James Brodsky. Their classes were an amazing balance of dynamism, breath awareness and inner quietude. They were students of T.K.V. Desikachar and Krishnamurti. I still can't believe my good fortune when i was invited to go and hear Krishnamurti talk every Sunday in the Olive Groves of Ojail. His wisdom was life changing, and I knew i wanted that…
By l977, my yoga teachers deceided to leaving town, and invited me to take over teaching their classes. I was honored, but at the same time, I felt i didn't know enough. So i covered their classes for another year, and then moved to San Francisco to attend the Iyengar Yoga Teacher Training Institute for more training. I was thrilled to be in the company of such senior Iyengar teachers. and absorbed everything like a sponge. The greatest honor of all was getting to take intensives in Pune, India with Shri B.K.S. Iyengar. His masterful eye and unlimited knowledge continued to ignite my passion, enthusiasm, and gratefulness for this practice.
After graduation, I was invited by the SYDA Yoga and Meditation Foundation world-wide, to teach yoga classes, workshops and teacher trainings for the next decade. It's hard to imagine, that back then, not alot of people were practicing yoga. So we spread the word–through India, Japan, China, Switzerland, France Germany, Italy, and all through the USA we toured offering this life enhancing practice. And who knew that by 2020 "Om" would be a household word, a yoga mat would be in everyones' carry-on and most doctors would be recommending yoga for good health. What a blessing….
In 1990 I returned to the Northwestern corner of Connecticut where I founded "Yoga Sangha", a community with heart. A few years later, i got introduced to Anusara Yoga. This new paradigm consisted of applying Principles of Alignment, and Balanced Actions for the inner and outer body that were in harmony with the Universe. A form of "co-dancing with the Divine." Just when i thought yoga couldn't get any better, it did! So i continued offering Anusara classes, workshops and immersions for the next decade..
From 1990 to 2012 I continued exploring different styles of meditation at the feet of many masterful teachers Paul Muller-Ortega(Hindu Scholar;) Thich Nhat Hanh (Zen monk;) Pema Chodron (Tibetan Buddhist Nun;) Narayan Liebenson (Insight Meditation teacher;) John Daido Loori,( Zen Buddhist Roshi;)
In 2012 one of my students introduced me to Life Coaching and The Work of Byron Katie. I got so much value from it that I created Satya Sessions. "Satya" in sanskrit, means truth. It's a form of meditation that takes silence, an open heart and mind, kind questioning and deep listening. Your own truth will set you free.
In 2019 I taught my first Yoga Sangha Teacher Training. Although my yoga classes will always be influenced by Iyengar and Anusara Yoga, I now work independently calling upon the true teacher within for creativity.

In 2020 during the pandemic, i wrote my first book of poetry, "Pure & Simple Poems." It was amazing how i got out of the way enough for the poems to write me! I am currently on my second book of poems, along with writing short stories of my wild and wonderful life.
I turned 80 this year… I still practice yoga and meditation daily; teach public and private yoga classes, offer Satya Sessions and continue writing. I am a student of love and an alchemist of the ordinary. My life is simpler now. I walk slower- not because i am older, but because I like to see, taste, touch, dance and feel my way into the heart of life. Namaste!
.
"Being in a yoga class taught by Jan Troy is consistently an enlightening and inspiring experience. She presents a literary or sacred text, or personal statement which she weaves together with the poses she has planned for the class. Classes are challenging and always a soothing balm for the body and soul. Jan knows each student well and with humor and care helps us to align properly. She has been instrumental in helping me to develop awareness of body and mind. And I emerge from each class renewed in body and spirit".
                                                          
~ DS, Montessori Teacher